Ambassadors of Nature: Empowering adolescents to thrive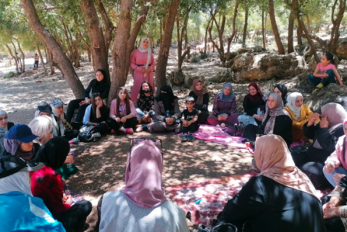 November 29, 2021
Adolescence is the most important period of life; health attitudes and behaviors during these formative years impact morbidity and mortality over the life cycle. The World Health Organization (WHO) defines 'Adolescents' as individuals in the 10-19 years age group. In Jordan, adolescents make up 19% of the population of Jordan, according to a 2020 UNICEF report.
During the adolescent period, people's physical, psychological, cognitive, and social (cultural, professional) characteristics change rapidly. Therefore, improving adolescent mental health and well-being is critical in preventing physical and mental health issues later in life.
Mercy Corps believes that young people can be 'leaders of today' if they are given the necessary support and opportunities to thrive. 'Nubader: Ambassadors of Nature' project was undertaken by Mercy Corps Jordan with the goal of enhancing the well-being and resilience of Jordanian youth and better prepare them for an uncertain future.
"Nubader: Ambassadors of Nature" was implemented to support youth in Ajloun in partnership with The Ministries of Youth and Environment and Eibeen Ebileen Sports Club in Ajloun and was made possible thanks to funding provided by the United States Government. The Ambassadors of Nature was targeting at-risk Jordanian and Syrian youth through nature based engagement and consisted of 24 structured outdoor and indoor sessions. Initial sessions introduce meditation, breathing and other self-regulatory work.
The program also included workshops where youth and adolescents received psychosocial support as well as basic technical and physical skills training in order to enhance their psychological well-being and provide them with the tools they need to cope with stressors in their surrounding environment. A caregivers program was running in parallel to the youth programming to promote healthy communication, and equip caregivers with the skills they needed to take on more active roles in their youth's lives.
During the program, a special emphasis was placed on empowering adolescent females. The participating girls were engaged in outdoor physical activities such as hiking, rock climbing, and camping through which they learned how to manage stress, build personal resilience and confidence. As a final step, the girls got the chance to design and lead six outdoor sessions for their caregivers which helped cultivate trust and strengthen intra-family relationships.
At the end of the caregivers session, we interviewed the mothers of the girls who had participated in the program to understand more about the impact the program had on their daughters.
"During the sessions, I was astonished by my daughter, she got really confident in expressing her opinions to others," one mother stated when asked how the training had impacted her daughter.
"Adventure and outdoor activities helped the girls to become more confident in their bodies and identities, as well as find new ways to cope with life's challenges," said another mother.
Ambassadors of Nature is part of Mercy Corps' Nubader program. Nubader ('we initiate' in Arabic) has increased the social cohesion among vulnerable Jordanian and Syrian male and female youth at-risk of violence and aggression by enhancing psychosocial wellbeing, reinforced at the family and community level and rooted in environmental stewardship. The conducted indoor and outdoor sessions have emphasized healthy lifestyle, improved mental health and environmental stewardship through nature education, climate change awareness and activities like hiking, rock climbing and camping. These activities aided young men and women in pushing themselves beyond their comfort zones in order to reach their full potential.
Stay connected to our work.