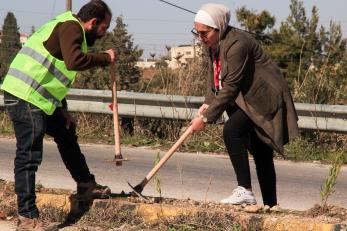 Mercy Corps is a global team of  humanitarians, working together in over 40 countries on the front lines of today's biggest crises to create a future of possibility, where everyone can prosper.
Since 2003, Mercy Corps has been actively working in Jordan, responding to the pressing needs of vulnerable populations, strengthening cohesive and civically engaged communities, and increasing inclusive economic opportunities.
Within the context of Jordan, our team consists of proficient individuals and collaborative partners  who all share the belief that communities are the best agents of their own change. While the challenges we set out to address are multifaceted, we are driven by the strength and resilience of the community leaders, youth and entrepreneurs who are determined to create a brighter future.