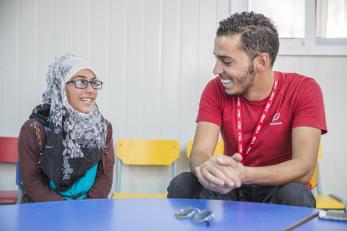 Mercy Corps is a global team of nearly 6,000 humanitarians, working together in over 40 countries on the front lines of today's biggest crises to create a future where everyone can prosper.
In Jordan, we are a team of over 200 — 95% of whom are from Jordan — who all share the belief that communities are the best agents of their own change. The challenges we set out to tackle are complex, but we are driven by the strength and resilience of the community leaders, youth and entrepreneurs who are determined to create a brighter future.
At Mercy Corps, we see Jordan as a place beyond refuge, shaped in substantial and durable ways by crises on its borders but not defined by them. We see great opportunity in Jordan's historical legacy of change and adaptation, of enduring hospitality toward others, of entrepreneurial vigor in the face of great odds and, in particular, in the unharnessed potential of women and youth as peacebuilders, business owners and leaders of reform.