The power of community-led advocacy: Key learnings from Jordan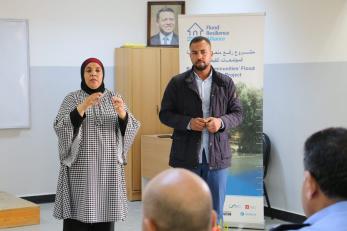 March 23, 2023
Community-led advocacy is a powerful tool for promoting change at the local level. When those affected by flooding make their voices heard on the issues that matter most to them, it can lead directly to positive change. Whether through campaigns, petitions or other forms of activism, community-led advocacy can bring attention to important issues and put pressure on decision-makers to act on important issues such as disaster preparedness, land use, and support for those whose lives and livelihoods have been impacted by floods.
Tackling a growing problem
Despite being one of the most water-scarce countries in the world, Jordan is also facing a rise in the frequency and severity of extreme weather events. Flash floods, heatwaves, droughts and forest fires have caused significant damages, claimed lives, destroyed agricultural lands and impacted livelihoods. As part of the Zurich Flood Resilience Alliance, Mercy Corps is working with local governments and flood-prone communities in Ma'in, Wadi Musa, Sweimeh, and Azraq to support the resilience of vulnerable communities so that they can adapt to climate change. By using the Flood Resilience Measurement for Communities (FRMC) tool, Mercy Corps has partnered with communities to measure their resilience and develop interventions to address flood risks.
Mercy Corps' core approach is locally-led. Through advocacy training and support with the development of effective action plans, we have increased communities' capacity to speak up on their own behalf. We've also equipped them with policy research and advocacy skills (such as policy paper writing) and connected them with networks and platforms so that they can confidently and actively lead and engage in policy efforts to inform better policies and plans beyond the program period.
What we've learned about community-led advocacy
So far, our work in Jordan has shown that community-led advocacy:
is imperative for identifying the most critical issues. The core teams who represent communities in Ma'in, Wadi Musa, Sweimeh, and Azraq worked together to discuss the flood-related issues in their areas, share their own knowledge, experience, and observations, and collectively agree on what changes they wanted to see. Each community identified its own individual priorities, including the establishment of an early warning system and disaster compensation fund, improved infrastructure related to flood management, and increased vegetation coverage.
is empowering. Community-led advocacy inspires individuals to take action and make a difference on that which matters most to them. An advocacy plan was created by the members of each community, followed by the development of policy papers which addressed the issues they are facing. These included evidence to support their analysis, and proposed recommendations for policy-makers. In a series of policy dialogues with the participation of communities and local governments, the core community members took the opportunity to present the key findings and recommendations.
fosters greater accountability. A campaign initiated in Sweimeh called on the local government to increase financial resources for the improvement of infrastructure that could mitigate the severity of flash floods. The community organized a petition, collecting signatures from local households in order to  put pressure on decision-makers to take action. By participating in this campaign, each community member helped to hold local governments accountable and ensure that they are responsive to the needs and concerns of those they serve. 
builds community resilience. Being community-led is not only about who is in charge, but also how the community works together. This approach helps build community resilience by promoting greater collaboration and coordination among community members. This includes not only those who are directly impacted by the issue at hand, but also those who have the skills and expertise to help achieve the desired outcome. It also contributes to a sense of community ownership and mutual accountability.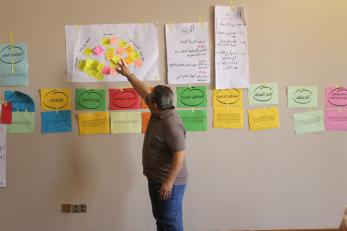 Facing future challenges
Community‐led advocacy is always rewarding, and brings an authenticity that simply cannot be achieved through outsider-driven projects. It also often takes more time and resources, and requires strong and committed leadership from those that can guide and coordinate the efforts.
As the frequency and intensity of natural hazards continue to increase, Mercy Corps is committed to supporting flood-prone communities in Jordan. Ensuring that they play a leading role in advocating for better policies and practices will help to reduce the risks and impacts of these events.
Stay connected to our work.