A girl-led activity: Designing adolescent girls safe space in Azraq Camp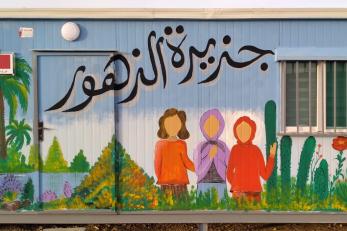 March 02, 2021
Aiming to increase the agency, safety and wellbeing of adolescent girls in Azraq Camp, Mercy Corps has launched a safe space for girls and women with the support of the Republic of China (Taiwan). The first goal was to adapt the WISE Girls (puberty girl-led education) model, already existing in Za'atari Camp, to meet the needs of young girls in Azraq camp. On February 7, Mercy Corps held a space design workshop with seven adolescent girls ages 15 and 16 in Azraq Camp.
Mercy Corps invited the girls to a space design workshop to personalize their space. They carried our drawings and paintings and participated in many team building activities to enhance their trust towards each other and the program. The girls' Safe Space in the camp is drawn from their ambitions and aspirations.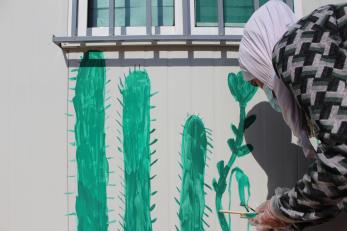 According to Kawthar, 15 years old, "Painting gave me positive energy and psychological comfort". Another girl, Ruba, 15 years old said, "Drawing makes tension go away as if sadness no longer exists." 
This activity was held with the support from a Syrian  professional local artist from the camp; while Mercy Corps provided the needed tools and material for the space design activity. The theme of the space was inspired through the story of Zhara from Jazeerat Al Zohour (Island of Flowers), which blends reproductive health education, peer support and leadership skills. With reference to the up-coming activities, this group of older adolescents are going to lead WISE Girls and other life skills activities mapped to their protective assets.
The girl-led initiative shifts the paradigm on the role of girls in programs from participants to active agents of change. While some organizations may consult girls, Mercy Corps is of the rare and leading organizations that put girls in the lead.  Mercy Corps believes that adolescent girls know what they need to lead safe, dignified and empowered lives. According to previous focus group discussions with adolescent girls participating in Mercy Corps program activities, it was mentioned that resources on reproductive health are mostly inaccessible, difficult to understand and/or inadequate, the girls demonstrated that a toolkit and an educational session in a safe space would fill this gap. 
Accordingly, the adolescent girls decided on a solution that fits their needs, which is the story of Zahra (Jazeerat Al-zohour). It is a story that includes accurate, adolescent-friendly information about menstruation, puberty and growing up. The main character of the story is Zahra, a Syrian girl who gets her period and is taken on a magical journey to learn how and why she is changing and who to ask for support. This girl-led activity has created a sense of belonging and ownership of the space to all of the girls, according to participant Zainab, 15 years old,  "This place is like my second home and I want to come to it every day."
 
Furthermore, Mercy Corps worked with the girls to identify the items they wish to include in their toolkit, one of these items is the reproductive health booklet that provides girls, who are growing up in times of conflicts, prolonged displacement and within communities at risk, with tips and guidelines on their health, body and rights as adolescent girls in a simple and fun storytelling format. Additionally, the girls selected special items similar to those of Zahra's in the story, that they need and desire to have as they are entering a new phase of girls' maturity.  
Our use of human-centered design approaches mean that adolescent girls are able to define and shape reproductive health programming with the language, scenarios and activities that meet their unique needs. Hence, peer educators will go through a 5-day training that includes reproductive health education delivered by gynecologists, training in reading aloud from our partner 'We Love Reading' and sessions in facilitation skills, planning, time management, and engaging younger peers. Each peer educator is then assigned to conduct Jazeerat Al-Zohour storytelling with a group of tweens aged between 11 and 17, based on their time and availability.
Mercy Corps was keen to collect feedback from all girls who participated in the design space workshop, below are key highlights:
When asked about how they felt about participating in drawing and designing this place (the new girls caravan). They answered:
Painting gave me positive energy and psychological comfort - Kawthar, 15 years old
Drawing makes tension go away as if sadness no longer exists - Ruba, 15 years old
When asked about what this place means to them. They mentioned:
This place is like my second home and I want to come to it every day - Zainab, 15 years old
When I was coming on the road, I told my friend "if I did not like the situation, I would not return," but after I got to know the girls, the ladies and saw the place, I'm willing to come here every day because it's amazing! – Ruba, 15 years old
I feel that I will do a lot of work here and I will be learning what I mostly need- Kawthar, 15 years old
This place brings me joy and happiness – Bara'a, 16 years old
When asked about their expectations for the coming days, they said:
I expect to build my self-confidence and be more courageous - Bara'a, 16 years old
I'm going to learn how to read stories which is something I really like – Kawthar, 15 years old
This place will help us develop ourselves and learn new skills – Salwa, 16 years old
Now that a safe space is equipped in place in Azraq Camp, Mercy Corps local Adolescent Girl Outreach Volunteers will support the upcoming workshops and consultations to ensure that Mercy Corps engages as many young girls. A next step for MC is to host open house events that showcase the girls' safe spaces to families and community members - one strategy to familiarize more people to girls' needs and their leadership role, build trust and a more supportive environment overall for adolescent girls.
Adolescent girls in refugee camps in Jordan are usually of the most marginalized age groups in conflict and prolonged displacement, this girl-led initiative is reaching out in the most unique way to raise the awareness on SRH issues, not only for the target age group but to the whole community that surround them including parents, siblings and neighbors. Through the application of the WISE Girls girl-led approach we want to ensure that an untapped female age group of adolescent girls in refugee camps learns about their bodies, health and rights, creating a cohort of girls with reduced risk and increased wisdom, information and power.