Jazeerat Al Zohour: A space where female adolescents feel less alone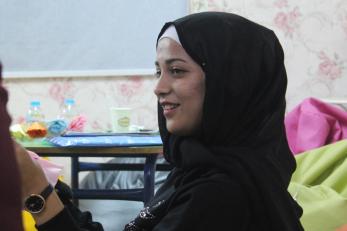 June 22, 2022
In times of crisis and long-term displacement, adolescent girls in Jordanian refugee camps are typically among the most vulnerable age groups, with things becoming even more difficult for the girls raised in the camps due to their lack of knowledge about menstruation and puberty, as well as their need for self-care.
Mercy Corps, in collaboration with Wisdom and Information on Sexual Education by Girls (WISE Girls), a cohort of teen educators who designed accurate, interactive, story-driven puberty education sessions, designed Jazeerat Al Zohour, a program covering  puberty education to younger teen girls living in refugee camps, helping them navegate menstruation and other changes in their lives and bodies in a natural and safe environment.
Ghazal, a 15-year-old adolescent girl, was hesitant to obtain sexual and reproductive health services due to stigma, shame, or a lack of self-confidence, much like other girls her age. Ghazal joined Wise Girls'/Jazeerat Al Zohour program as a participant, in 2021, where Mercy Corps' team worked with girls to find solutions to self-identified problems in a way that builds girls' agency and supports gender equitable, inclusive households and communities.
"I participated in Jazeerat Al Zohour program and I enjoyed it so much.  There were so many things I learned that I was ashamed to speak of or even ask anybody before." Ghazal Said.
After completing the training sessions and graduating from the program, Ghazal kept visiting the center regularly. "I got attached to Jazeerat Al Zohour because it was a place where I felt most at ease, where I could openly express my personal concerns, and where I could get answers to any questions that came across my mind." Ghazal explained. "After a while, I was asked to become a peer educator at Jazeerat Al Zohour," she continued. "I was overjoyed and speechless at that moment," she added.
Puberty is not embarrassing; it is a natural thing, and we should not be ashamed to talk about it.

Ghazal,

15 year-old Syrian girl
Ghazal, as a newly recurited peer educator, attended several training sessions where she was further introduced to sexual and reproductive heath, information about puberty and physical changes, the menstruation cycle, and the female reproductive system. With the confidence and knowledge she gained, Ghazal was and continues to deliver this information to her peers, using her newly-gained facilitation and communication skills.
"I consider myself to be a very significant person who can help girls my age or younger to handle stress and strengthen their emotional awareness. After each session, you find me eagerly awaiting the next one,  to share my knowledge and experiences with the girls," Ghazal mentioned.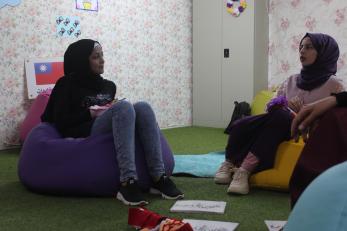 "As an outcome from the opportunity Mercy Corps provided me, my self-confidence increased and I have a desire to grow up and accomplish  my goals in life." Ghazal concluded.
ISHRAK: Adolescent Girls' Empowerment Initiative
Generously supported by the Ministry of Foreign Affairs of the Republic of China (Taiwan), this initiative partners with refugee girls and caregivers in Za'atari and Azraq Camps to implement behavior change strategies that promote gender equality and girls' empowerment. Girls also will benefit from mental health and psychosocial support to enhance resilience and wellbeing through expressive writing and filmmaking curricula and also builds on their improved skills, agency, and self-confidence to lead community initiatives that address needs expressed by their peers and the wider refugee community.
Stay connected to our work.