Helping vulnerable households carve a path out of poverty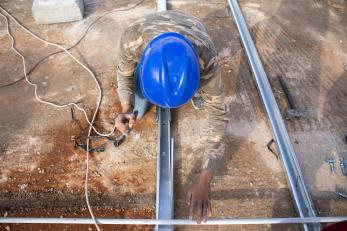 September 28, 2022
The Syrian refugee influx has had a notable impact on Jordan's socioeconomic conditions and has placed growing pressure on the country's already fragile economy and social fabric. It resulted in an increase of the unemployment rate among both Jordanians and Syrians, decrease in the average wages, overburdening of the available infrastructure and social services, and increase in child labour.
One of the groups most impacted by the crisis is youth, with current unemployment rates at 46.1%. Most vocational training institutes in Jordan tend to provide traditional programs that are not in line with youth's aspirations, and fail to deliver sufficient and holistic educational investments required for graduates to succeed in the workforce.
Ahmad Saoud, 33, is a general construction contractor, based in Mafraq. When Ahmad first started working, he was compensated with a very low daily rate, reaching a total monthly salary of only 250 JDs in a good working month. On top of that, in order to perform his job, Ahmed had to rent construction tools for a 70 JOD/two-day fee that he had to cover out of his own earnings.
Ahmad's low income made it difficult for him to provide for his family and pay off their mounting debts, putting significant strains on him.
In an attempt to address the outlined challenges, traditional assistance approaches to empower households often include training marginalized individuals in new technical and social abilities. However, in the absence of long-term solutions and access to livelihood opportunities, vulnerable households will continue to be marginalized. Therefore, the RYSE consortium designed the Graduation Approach (GA) under which households are targeted with a holistic intervention that includes coaching, general family guidance, cash support and individually designed pathways for family members to 'graduate' towards sustainable livelihoods.
Without the support from RYSE, I would not have been able to pay off all of my debts in such a short period of time.

Ahmad,

33 year-old
Ahmad was selected among the youth members targeted under the RYSE project in April 2021. Ever since, Ahmad's life has changed significantly; the Graduation Approach took him on a journey of technical and soft skills training and coaching that were complemented with a tailored solution to Ahmad's challenges in generating sustainable income for his family. Ahmad attended training sessions on a variety of topics including financial literacy which has helped him define his long-term financial goals. RYSE offers training on a wide range of topics, including but not limited to: Introduction to Protection, Self-awareness, Self-esteem, Personal Goal Setting, Entrepreneurship, Gender, My Rights at the Workplace, Preparation for the Workplace, Stress Management, and more.
As part of his tailored designed pathway under RYSE, Ahmad was provided with all the required equipment to perform his job as a construction contractor effectively. Ahmad was able to practice the financial management skills gained from this project to better manage his business and contribute to the financial stability of his family.
As a result of this intervention, Ahmad was recently awarded big government construction bids. "My life has completely changed; I have regained hope in life and my mental health has improved" says Ahmad. Having the tools and equipment at his disposal, Ahmad was able to take on more orders. Ahmad's new salary now exceeds his old one by three times, which allowed him to pay the accumulated bills all at once.
As a next step towards the longer-term goals Ahmad has set, he will expand his business by opening a maintenance shop and undertaking training on repairing central heating systems and boilers. Ahmad got a head start on his dream and successfully passed a practice test that would allow him to launch his own shop.
The RYSE project is a flagship multi-stakeholder partnership, counting Jordan River Foundation, Generations for Peace, Mercy Corps, INJAZ, and the Danish Refugee Council (DRC) as the lead agencies. The Novo Nordisk Foundation is the grant holder. RYSE focuses on empowering 25,000 Syrian refugees and vulnerable young Jordanians affected by the Syrian crisis to become the much-needed positive change agents in a region marred by war and political instability.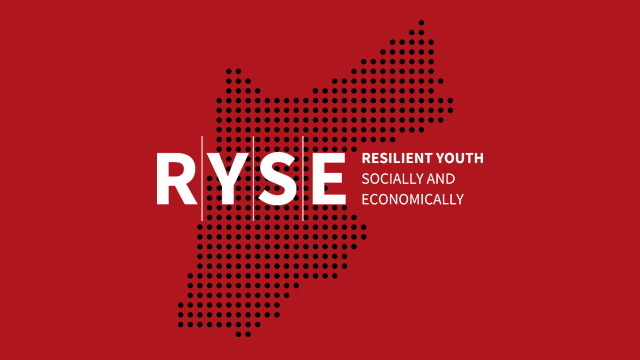 Stay connected to our work.