Jazeerat Al Zohoor helps Salwa recognize her physical changes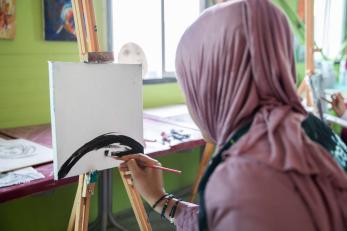 February 16, 2023
The program really helped me in comprehending several concepts that I was previously unaware of. Thank you very much, Jazeerat Al Zohoor.

Salwa,

15-year-old girl from Azraq camp.
Mercy Corps, in collaboration with the peer educators among the Wisdom and Information on Sexual Education by Girls (WISE Girls); a cohort of teen educators who designed accurate, interactive, story-driven puberty education sessions, designed Jazeerat Al Zohour, a program covering  puberty education to younger teen girls living in refugee camps, helping them navigate menstruation and other changes in their lives and bodies in a natural and safe environment.
This girl-led initiative is reaching out in the most unique way to raise awareness on Sexual Reproductive Health (SRH) , not only for the target age group but to the whole community that surrounds them including parents, siblings and neighbors. 
Salwa was like many of her friends afraid of being judged and embarrassed if she sought SRH care. Salwa learned about the program from her friends who were already participants, and she chose to participate because of them. "Jazeerat Al Zohoor is like a second home to me, and I want to come here every day," Salwa said. "The story of Zahra taught me how to care for myself by offering realistic, age-appropriate facts about menstruation, puberty, and growing up, as well as how to express myself via writing," she continued.
Jazeerat Al Zohour story, is a story that includes accurate, adolescent-friendly information about menstruation, puberty and growing up. The main character of the story is Zahra, a Syrian girl who gets her period and is taken on a magical journey to learn how and why she is changing and who to ask for support. 
Mercy Corps used the WISE Girls girl-led approach to ensure that an untapped female age group of teenage girls in refugee camps learn about their bodies, health, and rights, resulting in a cohort of girls with less risk and more knowledge, information, and power.
ISHRAK: Adolescent Girls' Empowerment Initiative
Generously supported by the Ministry of Foreign Affairs of the Republic of China (Taiwan), this initiative partners with refugee girls and caregivers in Za'atari and Azraq Camps to implement behavior change strategies that promote gender equality and girls' empowerment. Girls also benefited from mental health and psychosocial support to enhance resilience and wellbeing through expressive writing and filmmaking curricula and also built on their improved skills, agency, and self-confidence to lead community initiatives that address needs expressed by their peers and the wider refugee community.
Stay connected to our work.