MicroMentor MENA supports young startups growth: The case of Marie Elia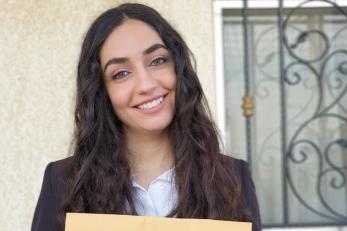 March 03, 2021
The status for startups in the MENA region has been rapidly developing into a vibrant ecosystem, there are up to 564 startups that were funded in recent years in the region with the majority having their headquarters in the United Arab Emirates, followed by Egypt and Jordan. According to TechCrunch, "of 160 million people in the region, 85 million are online and 50 million are adult digital consumers with plenty of cash to spend, and those numbers keep going up as the countries develop." With a high smartphone and broadband penetration, young, educated, connected, well-to-do population, the opportunities for tech-ventures are very promising.
In the "Doing Business Report, 2021" the MENA region's economies focused their reform efforts in the past year on improvements in the areas of Starting a Business and Protecting Minority Investors, with seven reforms in each area. All these driving factors are urging the youth generations to move into the entrepreneurship track as a career option.
In light of these rapid developments in the MENA startups sphere, in 2019, Mercy Corps MicroMentor diverted its focus to expanding regional opportunities and inter-connectedness by applying its online business mentoring platform across the MENA region.
With the MicroMentor platform, people from around the world can form mentoring relationships on their own schedule no matter where they are located. As a result, they can overcome geographic limitations and deliver much-needed business resources and training to underserved areas and communities, one great example is the Arabic platform serving entrepreneurs in the MENA region.
The case of Marie Elia
In September 2020, Marie Elia (shown above) from Lebanon started her non-profit business "Shop La Fripe" and was later joined by her sister. Marie came up with the brilliant idea of selling pre-owned donated items that have been properly loved and cared for such as clothing and jewelry, and selling them on their Instagram page where 100% of their profit goes to charity work and trusted charities in Lebanon.
The early startup phase for Marie was by selling and receiving pre-owned donated items with a mission to spread awareness about her cause and have media exposure so she could gain new donors and potential buyers. Marie needed help in building a thriving online community of her non-profit supporters, the ones who will actively engage with the content, share it with their networks, and respond to the calls to action. Marie was looking for ways to work with the people or organizations that are well-matched with her mission and can help advance her startup business.
Also, Marie needed guidance in properly pricing the donated items, time management, and reaching more people. She did not have a budget for a marketing team or an agency. She was then introduced to the MicroMentor online platform through an advertisement on Instagram, was immediately interested and loved the idea of having a mentor. She started connections with three mentors on MicroMentor Platform: Youssef Noor Eddin from Egypt who gave her advice on creating a professional business plan, Mustafa Jumma from Egypt who shared with her important books to read and videos to watch to help her grow her non-profit, and Basem Dweri who suggested she looks for sponsors and advised her to better categorize her items. All of them suggested she should create an e-commerce website.
Marie mentioned to the Mercy Corps team that she and her sister started taking actual steps based on the new knowledge gained through the mentors, they are building their business plan to become more organized, which will directly affect their new business outcomes. Marie's goal now is to find a website developer who can provide free of charge support in creating an e-commerce site for a faster and easier buying and selling process.
Entrepreneurship is a key engine of economic growth and innovation in the MENA region; this growth potential can be attributed to the region's large, youthful population. Approximately, 60 percent of the overall MENA population is under the age of 30, it is expected for these young people to fuel the rapid expansion of the digital sector in the coming years.
With this composition of youth, MicroMentor MENA is playing a pivotal role in enabling youth entrepreneurs to form a meaningful mentoring relationship with experienced professionals from around the MENA region, to help them unlock ideas, find tools, and best practices that can result in improving their venture outcomes, such as expanding access to resources, networks and regional markets.