Nubader: Empowering youth and transforming their lives through initiatives they lead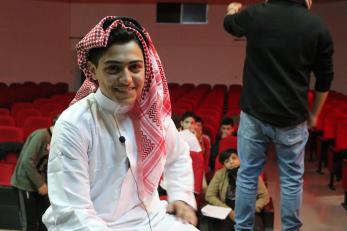 March 05, 2021
"Before participating in this play with Nubader, I felt I was nothing, and had nothing to offer. But as I got involved with my peers and we started coming up with the ideas for the play, I discovered that I have skills and a talent that I can employ for a good purpose. I felt great about role-playing in front of many people, being recognized and appreciated by them as I walk the streets, and I started to have a better understanding of my community too." says Mustafa from Nubader youth.
One of the civic initiatives that Nubader youth came up with in Irbid was producing and performing a play in the theater self-expression workshop' for the community about the risks of COVID‑19 named "COVID‑19 is not a Game". In the play, the youth bring a message of awareness to their community at large on the risks of not taking the COVID‑19 pandemic seriously and what the repercussions can be like.
Most of the at-risk youth who join Mercy Corps' Nubader program come to the centers burdened with the kind of challenges faced by youth in less advantaged communities of Jordan. Mustafa, a participant from Nubader mentions that "youth stress stems from the surrounding environment in their community due to bullying by older guys and conflicts with parents." Mohammed believes that "youth's common problems come from difficulties in studying, and rejection from their own community, as they are perceived to be a burden."
Part of the Practical and Self-Expression sessions conducted by Mercy Corps Nubader Program includes youth-led initiatives that address issues of particular concern to youth in their communities. Such initiatives improve community perceptions of local at-risk youth, who often suffer from negative, self-fulfilling feedback loops that label them as reckless, listless, and a burden on society.
As the youth group has reached the practical self-expression sessions, they started to have a brighter perspective of themselves, their families, and the role they can play in their communities. Many of them mentioned how their communities are accepting them differently after their involvement in a community service project.
Taking part in these initiatives has heightened youth's sense of civic responsibility and allowed them to play visible, solution-oriented roles in their communities, such as their leadership and participation in the "COVID is not a Game" Play.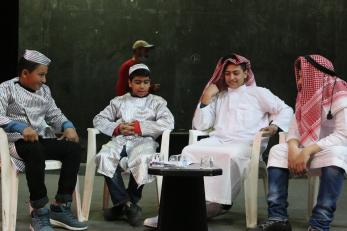 As a direct manifestation of the interpersonal and life skills they have gained across 24 diverse sessions, during the preparation for the play, the participating youth demonstrated a great level of responsibility towards their distributed roles from script-writing, to practicing their role play, to handling the theater décor and customs. The youth further showed reciprocal respect to one another and in following the group leader, as much as they wanted to express their opinions through the public play they created, they also revealed their respect to others from their community.
Mustafa says, "before participating in the Nubader project we didn't have a sense of our value in our society, Nubader affected the community's perception towards our role, that it can be constructive. Our view towards the future has changed because now we have a better understanding of our growth potential. I personally want to get away from smoking and bad behavior and will seek the advice of older people, who passed through similar situations of mine."
Mercy Corps Nubader project conducts practical and Self-Expression Workshops and support group sessions for youth aged between 12 to18. In its recent cycle, over 145 youth people in Irbid, Ruseifeh and Madaba have improved their interpersonal skills and self-awareness, met other youth their age who face similar challenges, and built networks with older people who can provide them with advice such as facilitators and youth workers. This supportive environment helped youth in mitigating their mental health issues and needs.
Mercy Corps, through its pioneering Nubader program funded by the United Kingdom's Foreign Aid, will continue to provide most at-risk youth of both Jordanians and Syrians with long-term solutions through support programs that can help them build their future, achieve self-actualization and contribute diligently to their communities.