Empowering Eilan: Overcoming challenges with the power of a cosmetic hand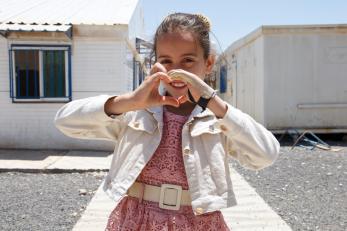 September 14, 2023
I can now make a love heart shape with my hands since I got the cosmetic hand.

Eilan,

Inclusive Education program participant
Children with disabilities in Jordan, including those living in refugee camps, encounter distinctive obstacles when it comes to accessing education, healthcare, and social inclusion. Access to education proves to be a significant challenge despite the enormous efforts that have been made during the past years, children with disabilities still face issues regarding accessibility, limited resources, and insufficient support systems. These challenges are particularly prominent in refugee camps where resources are scarce. Elian happened to be one of the children who faced such circumstances.
Eilan, a 9-year-old girl, lives in Jordan. Her journey toward empowerment began two years earlier. It all started when she enrolled in Mercy Corps' inclusive education program, revealing a congenital deformity (phocomelia) in her fingers. Eilan faced challenges and a lack of self-confidence, often hiding her left hand, and feeling different from her peers. However, with the support of the Inclusive Education team, her life took a transformative turn.
In 2021 the Inclusive Education team designed a customized cosmetic hand that matched the size and the shape of Elian's left hand. The cosmetic hand design was created using a 3D printer and carefully colored to resemble her skin tone. The moment Eilan received her cosmetic hand, her face lit up with joy.  "When I received the cosmetic hand for the first time two years ago, I felt so happy as if I had gained a natural hand," Elian expressed. After almost two years, the cosmetic hand needed adjustments as it had become small on her hand. In response to this, the Inclusive Education team designed a new bigger cosmetic hand to fit Eilan's hand.
With the cosmetic hand, Eilan felt a sense of confidence and belonging. The positive impact on her daily life was remarkable. Eilan eagerly embraced her newfound abilities, assisting her mother with household chores, confidently carrying objects, and participating in activities with her friends.
And within the school setting, Eilan's classmates were curious about her cosmetic hand, frequently approaching her with different questions. Through her cheerful responses, she educated her peers about the cosmetic hand. Eilan's confidence and openness allowed her to build strong friendships and be embraced by her classmates. "The cosmetic hand has  increased my self-confidence, allowing me to socialize and play with my friends more freely." said Eilan.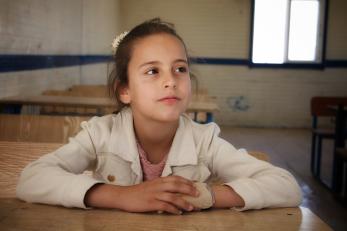 The support and assistance provided by Mercy Corps' Inclusive Education team played a big role in Eilan's journey. Eilan's mother expressed deep gratitude for the support provided to her daughter, recognizing the profound impact it had on her life. "I am very grateful to the Inclusive Education team and Mercy Corps for their support. It was a beautiful initiative to help my daughter Eilan and bring joy to her face." said Eilan's mother
Now, as Eilan continues to grow, she is determined to excel in her studies and make the most of her abilities. Eilan's story is an inspiration to other children facing similar challenges. She encourages them to stay strong, embrace their uniqueness, and find confidence in the knowledge that they are special. "Let's encourage ourselves because God created us this way, and we are special," Elian concluded.
Mercy Corps has been leading Inclusive Education programming for children with disabilities since 2008. Our holistic approach provided Jordanian and Syrian children with disabilities with personalized support, training educators to identify and assist them with appropriate tools. It also offered Jordanian schools new systems to ensure access to equitable learning opportunities and worked with communities to raise awareness around these children.
Stay connected to our work.