RYSE: Empowering young refugees to become social change agents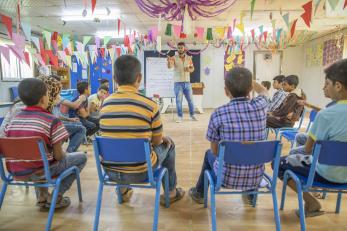 February 15, 2023
As a consequence of the conflict in their country, a large number of young Syrians have been compelled to flee to the refugee camps in Jordan particularly the Zaatari Refugee Camp. Syrian youth have shown remarkable resilience in the face of difficult circumstances living at the camp over the last eleven years. However, many issues confronting youth and the wider community go unnoticed, such as a lack of job opportunities and quality education.
With the firm belief that young men and women, whether refugees or Jordanians, are essential actors in strengthening civil society and contributing to economic development in Jordan, the Resilient Youth, Socially and Economically (RYSE) project, through its comprehensive programs, has worked to equip the youth of Zaatari camp with civic engagement opportunities and skills that will enable them to be agents of change in their communities.
The RYSE project was carried out in two stages inside the Zaatari Camp. The first phase was providing training sessions to youth leaders, aged 18 to 24, on the concepts and methods of transformational leadership. Active listening, collaboration, critical thinking and problem solving, decision-making, and consensus building were all covered in the training.
"The training sessions I participated in as a youth leader have benefited me in various aspects of my life, particularly in terms of time management, emotional regulation, and coping with the pressures of daily life." -Sameh, youth leader in the RYSE project.
Following the completion of the first phase of the training, the second phase began, with the youth leaders in charge of conducting a civic engagement skills training for the camp's youth aged 12-16. The youth leaders also assisted them in the creation of initiatives that intended to solve particular needs in their community, such as the installation of water filters at Al-Bahraini School, the distribution of solar lighting to camp houses, and much more.
During the past year, Mercy Corps' RYSE was able to successfully train 36 youth leaders, mentor over 1,000 youth, and implement 13 initiatives inside Zaatari Refugee Camp. These efforts have had a significant impact on the lives of youth and their families, and they have contributed to the creation of a more resilient community.
The RYSE (Resilient Youth, Socially & Economically) project is a flagship multi-stakeholder partnership counting Jordan River Foundation, Generations for Peace, Mercy Corps, INJAZ, and DRC (Danish Refugee Council) as lead agency. The Novo Nordisk Foundation is the grant holder. RYSE engages 25,000 Syrian refugees and vulnerable young Jordanians affected by the Syrian crisis. From 2020 through 2022 RYSE aims to build resilient futures.
Stay connected to our work.