Employability Research
Root Causes of Female High Turnover in the Jordanian SMEs, and the Retention Rates across SMEs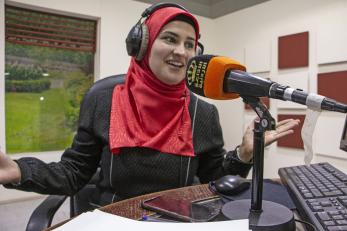 June 29, 2021
The Access to Justice and Jobs (A2J) 'Employability Research' is aimed at collecting in-depth information regarding the trends of female labor participation as well as the root causes of their lower rates of retention. 
In 2020, the estimated youth unemployment rate in Jordan was at around 35%, which is noted to be one of the highest figures in the past 30 years and among the highest globally. This is even higher among vulnerable groups such as women, despite having a slightly higher ratio of educated females to males in Jordan; the female labor force participation rate is at only 14%. According to the World Economic Forum's 2018 Global Gender Gap Index, Jordan has one of the lowest employment rates for women worldwide, suggesting that those females face more obstacles when attempting to enter the workforce than their male counterparts.
In the course of carrying out its activities, the Mercy Corps A2J project focused on increasing employability of youth and women through transferrable skills training, apprenticeships and start-up grants; and increasing the capacity of micro, small, and medium-sized businesses (MSMEs) to expand and create employment opportunities. However, the percentage rate of female dropout was significantly higher throughout the project duration; this can be attributed to multiple social and economic factors. 
In Jordan, like many Arab countries, social concepts play a major role in limiting the practical and economic ability of Jordanian women. Despite being more educated than their male counterparts, women are considered responsible for most of the unpaid work in the home, such as childcare and household chores, limiting their ability to leave home for long hours to go to the labor market.
There are other reasons why employers are more inclined to hire men than women, such as women's perceived limited ability in hard labor and to work late hours. In addition to the costs incurred by employers related to child care and mandatory maternity leave. Moreover, the many difficulties that women face when commuting constitute an important barrier to the integration of many women into the national economy. These reasons combined have spurred the Mercy Corps A2J team into investigating the root causes for this phenomenon. 
 
The Mercy Corps A2J team conducted the end line evaluation with 460 program female participants, with the majority being young, married, with no children. The participants engaged in different vocational training such as beauty, construction, loading and unloading, and mobile repair. Out of those a total of 92 (around 21%) participants reported increased ability to meet current and future household needs which is double the intended target of 10%. The selection of a wide array of training domains that are in line with market demands in northern Jordan has played an important role in overachieving the intended target.
One major finding in the survey was an outstanding 82% of women surveyed reporting that it was a lack of opportunity regarding professional growth that has served as the single major roadblock for them entering the labor market or completing employability training.
Recommendations
Develop and build on rural-specific data to inform evidence-based gender-sensitive policies and strategies for rural employment creation.
Employability services should focus on specific practical skills that women can utilize to enter the labor market.
Employability services should go beyond the gender typical trainings (beauty, sewing, etc.) and invest more into skills such as coding, machine learning, and other software engineering streams.
Aid in producing employment opportunities that cater to the demands and ambitions of well educated Jordanian females.
Advocate for changing the legal expectations of gender roles. Jordanian labor law stipulates that men are the breadwinners and are thus prioritized for employment opportunities.