From housewife to family provider through Italian cheese making in Ader, Jordan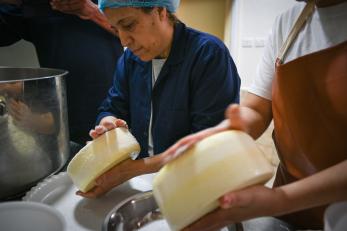 September 05, 2023
"I am a housewife, dedicated to caring for my family, yet I have always aspired for more. Having earned a degree in business administration, I've always dreamt of building a successful career but circumstances played against me. For long years, my days were defined by a routine of cooking, cleaning, and managing chores. However, with four of my children now married, I found myself with plenty of free time and very little productivity. Moreover, when my husband fell ill and lost his job, I faced an urgent need to earn some income to help with our expenses," shares Kholoud Hourani, one of the local women working at the 'FormaJO' cheese production kitchen in Ader, in the governorate of Karak, Jordan.
Unemployment rates in the country, particularly for women, remain notably high, especially in governorates like Karak. Many women in those areas continue to face significant challenges in finding job opportunities just like Kholoud. Habibi Valtiberina Association (HABIBI) noticed the growing need for targeted solutions that work towards poverty eradication and reduction of inequalities by promoting and fostering social integration and economic empowerment of vulnerable groups, especially women. To that effect, they initiated a social enterprise called FormaJO; an Italian cheese production kitchen aimed at empowering local women in Ader.
FormaJO leveraged local traditional cheese making knowledge and introduced two new lines (pecorino and ricotta) to expand Ader's product offering and provide higher added value products to the local economy.  The new cheeses are being integrated into existing restaurant menus, bread and pastry making, as well as new retail. Unfortunately, the project has been struggling for years to stabilize economically.
In line with its efforts to support micro and small enterprises (MSEs) achieve better access to business opportunities and scalability, the USAID Informal Livelihoods Advancement Activity (Iqlaa) has been supporting HABIBI launch a new phase for FormaJO that aims at achieving growth and sustainability. Iqlaa worked with HABIBI to create and implement a business development plan that would help FormaJO increase productivity and achieve a better reach with its cheese products.
Through Iqlaa's support, HABIBI managed to register its FormaJO brand, which would enhance its ability to grow, transform and access wider markets. FormaJO's production has also experienced significant progress as more local women from Ader started working at the production kitchen, including Kholoud. More milk has been sourced by additional local shepherds, which has helped increase cheese production. Marketing efforts have also been put in place to introduce the FormaJO cheese to the local market and create the needed business linkages.
For Kholoud, a mother of six, FormaJO offered her a much-needed job opportunity just at the right time. At first, she was hesitant as she was unfamiliar with producing Italian cheese. She also faced resistance from her husband and children who were concerned about her ability to balance work and family responsibilities. But she eventually embraced the opportunity, driven by her deep need to be productive beyond the confines of her home.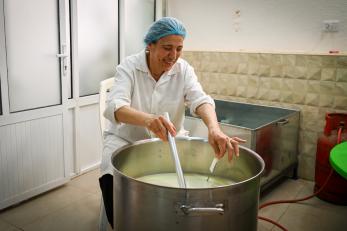 With her first received payment, she treated her family and herself with things they had long desired. With time, she saved up to pay for her son's private tuition to help him pass high school and she supported her daughter to get a master's degree.
"The beginnings were challenging; I was not so sure I could handle the production of such sophisticated types of Italian cheese. But with time, I gained more confidence, thanks to the on-the-job training provided by FormaJO with the support of Iqlaa", says Kholoud. She fondly recounted her experience with the 48 hours training led by an Italian cheese-making expert: "The training atmosphere was energizing and engaging, enabling us to develop our technical skills and knowledge in producing high-quality Italian pecorino and ricotta cheese. We learned specialized techniques that consider the local climate and the effects of different milk varieties on cheese-making; we also gained experience in quality control and food safety".
For Kholoud, this job opportunity also added some social richness to her life: "Working in the cheese production kitchen has brought me closer to women in my community. We work together, laugh together, and have each other's back".
"Working and celebrating the fruits of my labor brings me immense satisfaction. Although I started working later in life, I am genuinely grateful to Iqlaa for making it possible. I am today a provider for my family and a productive woman. I stand as a living proof that women can achieve a lot, skillfully balancing work and family responsibilities", adds Kholoud proudly.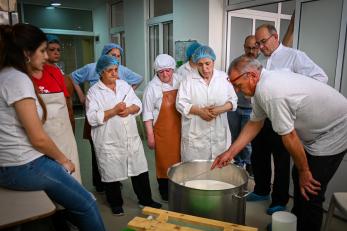 Today, with the support of USAID Iqlaa, eight women and two shepherds work at FormaJO in Ader, Karak. The kitchen produces exquisite Italian cheese, made by the hands of local women who blend locally sourced sheep milk with their acquired expertise and an immense passion for growth and progress.
Cheese has never tasted that good!
The USAID Informal Livelihoods Advancement Activity (Iqlaa) is a five-year USAID-funded program that started in 2022 and aims to support Jordan's home-based businesses (HBBs) and micro and small enterprises (MSEs) to grow, transform, and become resilient to future shocks. Iqlaa's approach will explore new ways of doing business and improving access to finance, markets, and services.
The program focuses on four sectors: agriculture, hospitality and tourism, manufacturing, and services, with special focus on technology development and implementation. Iqlaa infuses a gender, youth, and social inclusion lens throughout all interventions.
Stay connected to our work.