Financial Inclusion Solutions for Women in Tech-Enabled Business in Jordan
Assessment Results and Key Findings of a Study by Mercy Corps in Jordan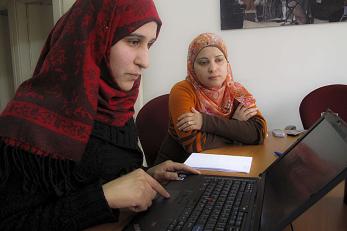 June 09, 2021
As part of Mercy Corps financial inclusion solutions for women in tech-enabled business in Jordan, the Act for Impact: Women's Economic Empowerment and Equality (WE3) assessment results were released recently as part of the organization's endeavors for women economic empowerment. The Women's Economic Empowerment and Equality original project aimed to support the uptake and use of e-wallets among 'Bilforon' and 'Carers' workers, two platforms with majority female gig workers that were planning to integrate digital payment tools across their platforms.
A preliminary assessment with 125 workers showed that women on Bilforon and Carers platforms had high rates of traditional account ownership, but were not incentivized to use e-wallets and did not see their value as compared to bank accounts. While Bilforon and Carers both planned to integrate e-wallets into their systems, as the COVID‑19 pandemic restrictions took hold, both platforms lost business and suspended their planned integration of digital financial tools. Thus, to adapt the project to the changing context, the Mercy Corps team and gig companies decided to offer training support to improve workers' financial literacy and provide an introduction to digital financial services, thus expanding the pilot focus beyond just e-wallet uptake and use.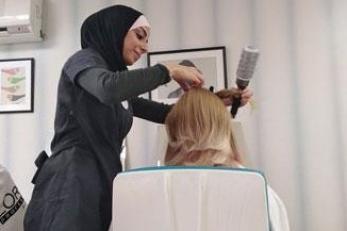 Relationship Between Financial Inclusion and Women's Economic Empowerment and Gender Equality
As enshrined in Sustainable Development Goal 8, improving access for households to appropriate financial services helps people save, make and receive payments, and manage risk. Yet Jordan maintains a strong "culture of cash." According to a recent study by the Central bank of Jordan (CBJ) and GIZ, most Jordanian adults (67%) do not have a formal account. Among banked adults, women's financial inclusion has grown from 15.5% in 2014 to 27% in 2017, but still lags behind men's account use (37%). Over half of unbanked adults surveyed felt they had no need for an account and pointed to high account fees and complex bank procedures as secondary reasons for remaining outside the formal financial sector.
As COVID‑19 led to curfews and restrictions on travel, gatherings, and commerce in the past year, businesses were severely disrupted. Mercy Corps, through its partnership with Bilforon and Carers, decided to offer multi-session online training to both platforms' workers covering financial literacy, business management, and an introduction to digital financial services.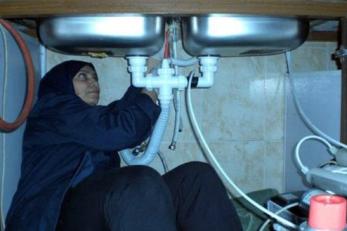 Activity 1: Collect Financial Inclusion Data with 'Bilforon' and 'Carers' Gig Workers
Bilforon
Seventy-nine chefs who were registered with Bilforon in Amman, Irbid, and Balqa governorates completed the survey. The majority of respondents (95%) were women and four (5%) were men. Seventy-two (91%) of the chefs were Jordanian and seven (9%) were Syrian. The average age of the respondents was 47; 44% were between 35 - 49 years of age, while 43% were above 50 years old.
Assessment results revealed that chefs had a higher rate of traditional financial inclusion than the Jordan average: 56% of respondent chefs had personal bank accounts that they used to make financial transactions for their businesses. A full one-third of the respondents (33%, 25 females and one male) had no financial account of any kind. The majority of chefs (62%) who completed the survey reported making business decisions, including financial decisions, by themselves.
Carers
Mercy Corps reached 50 Carers workers in Irbid and Amman, all registered as nurses, babysitters, physiotherapists, and clinical lab technicians. The majority were women (56%) while 44% were males. The average age of the respondents was 34 years; 54% were between 25-34 years old. Among them, 62% were single and 38% were married. All were Jordanian except for two Syrians. The vast majority of care professionals surveyed were banked: 84% had a traditional bank account that they used for business. Almost all Carers respondents (96%) reported making their own business decisions.
Overall, Women's financial inclusion - a marker of economic empowerment - was high among surveyed gig workers: 89% for Carers workers and 64% for Bilforon chefs, compared to just 27% of Jordanian females nationwide.
The assessment results suggest that Bilforon chefs (predominantly female) may have a lower level of control and final decision-making power over productive assets linked to managing and growing their businesses and income than workers on the Carers platform. This finding may be most strongly correlated to age and sex, as 87% of surveyed chefs, almost all women, were above 35 years of age.
Activity 2: Develop and Deliver Training and Other Support Services for Gig Workers
Adjusting to COVID‑19
Mercy Corps, Bilforon, and Carers decided to offer an online, comprehensive business skills and financial literacy training, including an introduction to e-wallets, to meet a broader array of needs. Mercy Corps contracted a training company to co-develop a multi-session virtual training to be delivered via Zoom.
Financial Literacy Training: Content and Results
In total, 294 people (almost all women) enrolled and were split into 12 groups. Each group received the same three day, eight hour training via Zoom between late December 2020 and early January 2021.
The five training modules started with an introduction to the environment for small and home-based businesses in Jordan and their link to women's economic empowerment, then moved into sales and marketing, financial management, plus digital financial services and mobile money.
Across groups, participants showed an average 30% increase in knowledge from the pre to post evaluation conducted. Participants' requests were primarily around access to finance for new and existing small and home-based business, plus more training opportunities. This supports the theory that cultivating female entrepreneurs' peer networks may be a sustainable women's economic empowerment strategy.
Key Recommendations
For Mercy Corps Jordan, and building on Youth Impact Labs' impact evaluation recommendations:
As a women's economic empowerment strategy, integrate financial inclusion into the outcome and output level of all livelihoods and micro/small/medium enterprise (SME) support programs;
Integrate market-driven access to finance strategies into all livelihoods and SME support work;
Gender and social inclusion strategy: use gender-intentional assessments and sex and age disaggregated data to identify and target vulnerable workers (e.g. unbanked female business owners and workers) with tailored support.