Youth Impact Labs - Testing Innovative Solutions to Tackle Youth Unemployment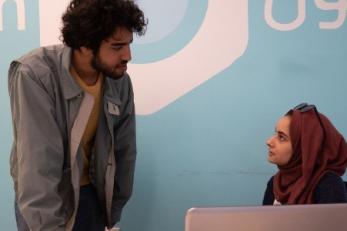 February 22, 2021
Youth Impact Labs (YIL) identified and tested creative, technology-enhanced solutions to tackle youth unemployment. Focusing on vulnerable youth ages 18-35, this initiative aimed to think big, take risks, and test bold solutions by approaching underemployment and unemployment through a business-oriented innovation lens. YIL focused on the three interconnected elements of the labor market system. First, YIL prepares job seekers for market opportunities. Second, the program increases demand for youth labor through private sector partnerships and platform development. Third, YIL strengthens the labor market ecosystem and ensures that it facilitates safe, equitable and decent work opportunities. An external evaluation completed late 2020 highlights a number of lessons learned.
Impact and Innovation:
By the program's end, Youth Impact Labs reached more than 200,000 people and attributed income increases totaling over $4.3 million to more than 8,354 vulnerable individuals. We anticipate the impact will continue to grow through the establishment and sustainable businesses models of our 29 partners. These results were achieved through the following innovative interventions:
Job Matching for Blue-collar Workers: Mercy Corps and Bayt, the largest job-matching digital platform in Jordan, partnered to create a new online job matching platform that focuses on blue-collar and basic skills jobs, the first of its kind in Jordan. The platform addresses key challenges for blue-collar workers – the lack of networks as well as knowledge of job vacancies and application processes.
Sharing Economy and Digital Marketplace Support: Desire for more flexible and decent work from both men and women has led to increased interest in the sharing or gig economy. YIL helps sharing economy startups innovate, grow and excel through financial, technical and mentoring support.
Talent Management Solutions: YIL conducted ideation and entrepreneurship bootcamps with high potential entrepreneurs focused on solving talent recruitment, development and management challenges. Through the bootcamp, YIL grew top ideas into service providers or acquisition targets for partner companies through financial and technical support.
Overall, the approach of job matching for blue-collar workers reached the highest number of participants and generated the highest income per worker. The approach of sharing economy and digital marketplace support - on the other hand - excelled in the number of workers generating income and total revenue/net income generated. Early stage companies provided better results compared with seed and rapid/late stage partners. Female founded teams performed better in terms of overall effectiveness.
Lessons Learned and Recommendations:
Provide Tailored Support Based on Enterprise Needs: Youth Impact Labs supported innovations developed by enterprises in different stages of business growth, different sectors, and different countries. Those that are in early stages of growth are more likely to need and benefit from both technical and financial support. Providing a flexible, context-specific package of interventions to start-ups, both financial and technical, has proven to be an effective way to support for-profit enterprises that are enabling job creation.
Differentiating and Creating Cohorts During Enterprise Selection: We learned that there were opportunities to go further in segmenting enterprises by their growth stage. Growth stage enterprises already had stronger teams and better internal operating structures, which meant they often used Youth Impact Labs' resources more efficiently and recorded greater returns on investment. Early stage businesses, by contrast, were more agile and willing to test new technologies, innovations, and markets. It is recommended to build a clearer cohort model based on the phases of enterprise growth. This would bring the benefits of a balanced portfolio, delivering both immediate scale with growth-stage companies, while catalyzing more enterprises to enter and grow in this space. This could involve a 'venture lab' approach, incubating and accelerating promising ideas and early-stage start-ups.
Mainstreaming Gender: Our assumption was that on gig-economy and sharing platforms women disproportionately benefit due to the flexibility inherent in platform work. For example, women who are caregivers or want to take care of their young children can engage in the gig economy by undertaking online work through platforms. We saw this apply in many cases. However, Youth Impact Labs did not select its partners specifically based on gender-participation objectives, potentially missing an opportunity to target sectors/platforms that more directly support the creation of work opportunities for female workers.
Stronger Ecosystem Engagement: Future programs should seek to work with a wider set of actors within the ecosystem, not only intervening directly with start-ups and other tech actors, but planning interventions with other actors to ensure sustainability and enable change of the broader system. Specifically, efforts could be made to engage other funders in the space; bringing more investors (particularly angel investors for early-stage start-ups) into the space, as well as working with more traditional donor institutions to help them understand how to bring platforms to scale. This could also involve policy work, for example by being a leader in advocating for decent work opportunities for gig workers.